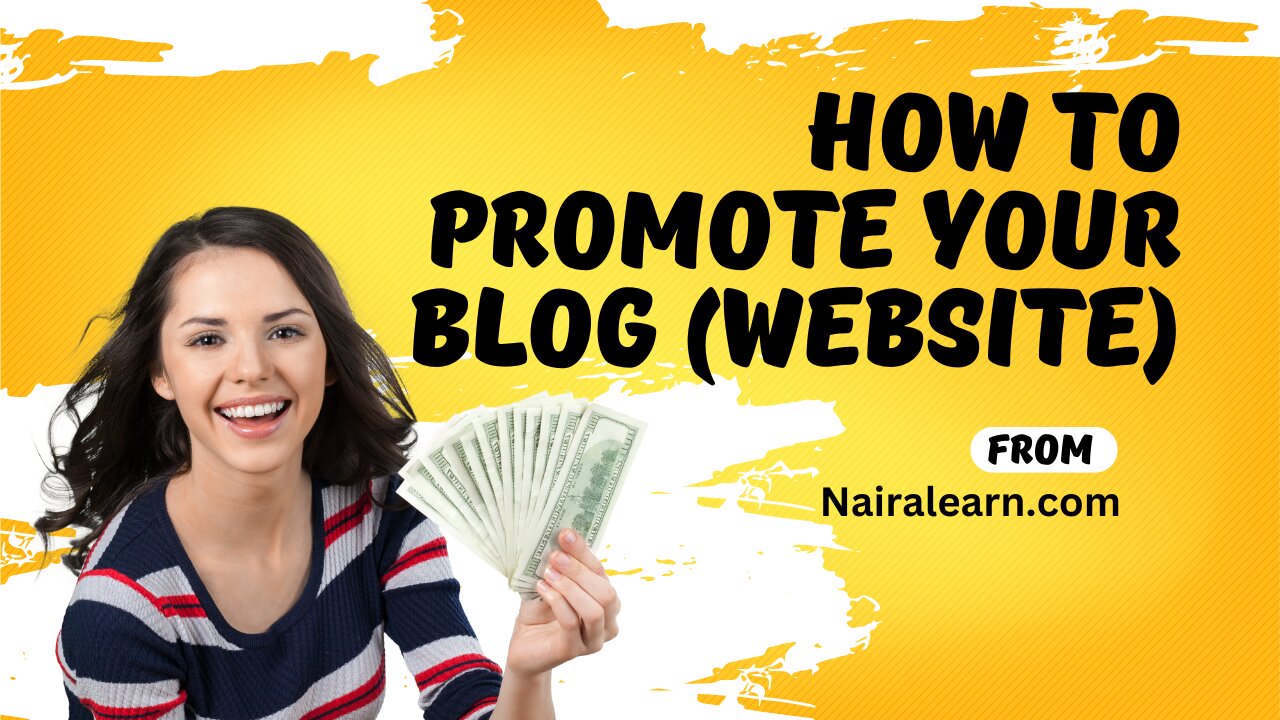 First, know that growing a blog site or website, in general, takes time these days, that in today's internet world, it requires patience to build any website or blog project
So to answer the question most people ask. How can they promote their blog or Website?
My first answer or question to them is… How Optimize is your blog, web blog, or Website? Is your blog, web blog, or Website Optimized for SEO? How about Optimization for Email marketing? Are you collecting emails from your website or blog visitor? 
Is your website speed ok, how about it mobile-ready, What are your website's technical features, hope all are good, once all these are available and your website meets the check mark? Then you can start doing the following in other to promote your blog (website).
1: Promote your website using Google AdWords: Yes when it comes to promoting a blog, website, or any products and services across the internet Google Adwords remains the best
This form of ads will increase your website traffics, help Google to pay attention to all ongoing across your website, is trusted by the ads community, and more importantly the returns on investing is encouraging. It helps on increasing blog or website page authority. So feel free to use Google Adwords to boost your website or blog. 
2: Promote Using CPA Networks And Affiliate Programs: I know you may have come across CPA, OR THE Word CPA Networks, what most website or blog owners don't know is that, they can use CPA Network to promote their website or blog. Not just CPA Network, you can also use affiliate programs to promote your blog
To get started using CPA Network or Affiliate program in promoting your website or blog, you have to sign up for any of the CPA Network and affiliate program best in line with your website or blog niche and allow CPA marketers as well affiliate marketing around the world to get into your CPA AND Affiliate list program, This method works like a charm
3: Promote Your Website across Social Media: Use social insights or social media retargeting. Social media sites like Facebook, TikTok, Instagram influencers, etc still work great when it comes to blog or website promotion and the good news is that Social media promotion is affordable when compared to Google Adwords, CPA, and Affiliate networks. That if you are on a low budget you may need to consider starting your blog website by boosting leveraging social media platform
4: Join relevant Forums and classified portal: Join forums related to your niche and promote your website leveraging their premium ads, do the same with the classified portal, sign up to the classified portal in your country or global world, and list your website on categories related to your website or blog niche. Check if such classified have boosting feature also leverage them for maximum reach across its users
5: Promote your website across Youtube: To do that, you will have to create high-value videos contents, publish it on your youtube channel and boost it, don't just depends on the free listing, Most time you just have to try out paid ads and see how great they work
Also, Get access to the download link of Nigeria Business Database GSM Number And Email Database and promote your business to over 135 million active Nigerians on ago, as well get access to the Whatsapp Mass Sender application. Use these two marketing tools to boost your business
6: Use relevant tools: Is to use relevant tools like, 172 countries leads database with over 800+ million global world active users, also tool like the WhatsApp Mass Sender, smart Bulk SMS Services, and the over 50 Millions Email Database Of Nigeria to boost your blog or website and thank me later
Hope you enjoyed reading this post "How to promote your blog (website) also check out the Nairalearn course section for more and read more blog posts here. Cheers from Mbonu Watson CEO of NL SOFT Owner's nairalearn.com