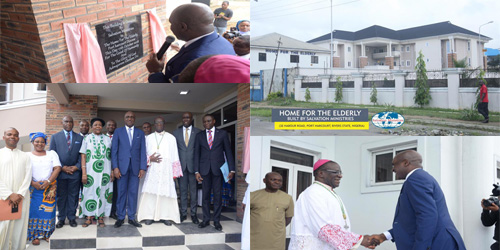 SALVATION MINISTRIES

BUILD HOME FOR THE ELDERLY,

Donate It To Roman Catholic Church
To Some, This mark the beginning for interdenominational unity among the Christian faithful in Nigeria As Salvation Ministries Build, Hands over Home for the Elderly to Roman Catholic Church @David Ibiyeomie @56
The David Ibiyeomie led Salvation Ministries has officially handed over the home for the elderly it singlehandedly built to the Catholic Church today.
The edifice is built to service our senior citizens to the glory of God. In love, Unity And Care to the Elders
In commemoration of the upcoming 56th Birthday of the General general Overseer, In the Person Of Pst David Ibiyeomie, which is set to take place on Sunday 21st October 2018
You May Also Like: My Father Is A Catholic Priest- Sarah's Confession
Pastor David Ibiyeomie took out time to inaugurate and hand over the world-class edifice which was built by Salvation Ministries
Home of Success for the aged/ elderly persons in Rivers State, Nigeria. To give them comfort, Joy and most importantly Peace With God.
GRAB THIS COURSE: Entrepreneurship Online Masterclass! Click Here
Present on the occasion was Most. Rev. Camillus Etukudoh – Bishop of Port Harcourt Diocese, Dr J.C. Osanakpo (SAN), Fr. Steve Dedua, and other Pastors who accompanied Pastor David Ibiyeomie.
The Bishop commended Pastor David Ibiyeomie for his love and large heart for humanity and above all, for being the first to demonstrate this level of love to the Catholic Church and prayed God to grant him long life and fruitful years ahead as he celebrates his 56th Birthday.
This Indeed Is A Welcome Development Not Only To Salvation Ministries But To Christian Faithfuls In Nigeria, See Picture Story Of The Event Below
GRAB THIS COURSE: Entrepreneurship Online Masterclass! Click Here
GET THIS COURSE:  Search Engine SEO MasterClass! CLICK HERE