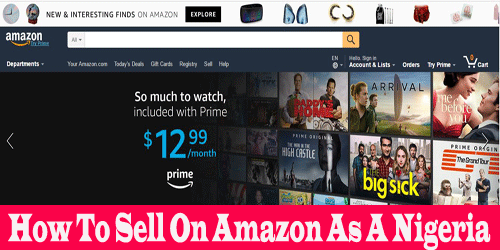 Top Secret Reveal, How To Sell On Amazon Marketplace
By Mbonu Watson
---
How To Sell On Amazon As A Nigeria, First Of All, Know That Nigeria Is Among The Pitfall Countries That Can't Registered a Seller Account On Amazon Market Place
SO TO SELL ON AMAZON AS NIGERIAN RESIDENT, JUST TAKE YOUR TIME TO READ THE ENTIRE ARTICLE HERE AND WATCH THE VIDEO GUIDE AND THE FOOTER OF THIS ARTICLE, AS EVERY SECRET OF SELLING ON AMAZON HAS BEEN REVEALED ON THIS ARTICLE TITLE ( How To Sell On Amazon As A Nigeria )
So Today Am going to provide solutions to those not only from Nigeria but from other countries that can't sell on Amazon on Amazon due to Amazon policies and pitfall on those countries
Before we get started on HOW TO SELL ON AMAZON AS A NIGERIA, Here are things you need to have in other to sign up your register seller account on amazon marketplace
1, You Need A Bank Account From Amazon Certified Countries
2, You Need A Credit Card From Any Of The Amazon Verified Countries
3, You will need to use Payoneer when you reside in or outside a seller registration approved country and that of a bank account in an approved country
4, You Too also required to obtain a US EIN number, that is an Identification Tax Number assigned to you, which you will use to fire tax at the end of the year

It's important to be aware that Online marketplaces like eBay, Amazon, and Google require all online sellers to submit an EIN Number or social number at the end of the year for tax purposes. In order words, you have to pay taxes for the money earned online from these companies
You also don't have to be a corporation or have any kind of legal status in America to have the EIN number. To get your EIN number, simply fill out the 10-BEN application form online at the IRS.GOV  website ( US government tax debt collection agency )
NIGERIANS ARE GREAT PEOPLE; NOT ALL NIGERIANS ARE SCAMMERS, YOUR INTEREST TO SELL ON AMAZON CAN BE ACHIEVED
Yes A lot of Nigerians has the interest of selling with Amazon, unfortunately, for Nigeria resident to sell on Amazon marketplace

You in person will need to have a resident address in one of the approved countries accepted for seller registration in Amazon; As Nigeria is not an approved country for seller registration, you would be unable to sell on Amazon using Nigeria resident address and bank account
So To say, residing in a registration approved country is required to set up a seller account on Amazon
However the US market remains the biggest, and I understand why people from outside of the US may wish to sell on Amazon, with email, Skype, WhatsApp, cheap international shipping, Google hangouts and lots of other techs stuff features in Amazon online marketplace
Everything is possible nowadays, to be able to sell on Amazon, although the amazon's policy does not sound like the same when you talk about people trying to sell on Amazon from Nigeria
Nigeria as a country is not allowed to sell on Amazon, and the currency Naira is not supported by Amazon marketplace
BELOW ARE COUNTRIES AND CURRENCY SUPPORTED BY AMAZON
Eurozone: Austria, Belgium, Cyprus, Estonia, Finland, France, Germany, Greece, Ireland, Italy, Latvia, Lithuania, Luxembourg, Malta, Monaco, the Netherlands, Portugal, San Marino, Slovakia
Slovenia, and Spain, United Kingdom, United States
Albania*, Argentina*, Australia, Brazil
Bulgaria, Canada, Switzerland and Lichtenstein, China* Colombia* Czech Republic, Denmark (including Greenland and the Faroe Islands), Hong Kong, Croatia
Hungary, Indonesia*, Israel*, India, Jordan*, Japan*, Cambodia*, South Korea*, Laos* Sri Lanka*, Morocco*, Mexico*, Malaysia* Norway*, Nepal*, New Zealand*, Philippines*, Pakistan*, Poland
Romania*, Russia*, Sweden*, Singapore*, Thailand*, Taiwan*, Turkey*, Vietnam*, South Africa
BENEFITS OF LISTING AND SELLING ON AMAZON
Amazon Marketplace Put your products in front of tens of millions of Amazon shoppers. With no per-item listing fees, Amazon can help you grow your business.
1: Reach Hundreds of Millions of Customers
Access a massive audience of confident customers—in the U.S. alone; Amazon has over 95 million monthly unique visitors. by listing your products on amazon you will grow faster and
– Benefit from a brand that ranks #1 in reputation as determined by a 2016 Nielsen Company survey.
2: Let Amazon Do the Heavy Lifting For You
Amazon will do the lifting for you and Scale swiftly and reach even more customers with Fulfillment by Amazon, world-class fulfillment service.
Amazon We pick, pack, and ship your products and take care of customer service and returns—all so you can focus on growing your business.
3: Amazon Will Put Your Products in the Spotlight
Get the word out—boost your product visibility and help maximize sales with Advertise on Amazon.
GETTING THE FULFILLMENT BY AMAZON MARKETPLACE
This Will Let Amazon pick, pack, and ship your orders as mention earlier
Here Amazon sells it for you, Amazon ship it for you. Amazon pay you your Cash, Amazon has created one of the most advanced fulfillment networks in the world, and your business can benefit from Amazon expertise.
With Fulfillment by Amazon (FBA), you store your products in Amazon's fulfillment centers, Best of all, FBA can help you scale your business and reach more customers.
This Will Enable your listings on Amazon to qualify for Amazon Prime and Free Shipping on eligible orders with world-class fulfillment.
With Amazon Registered Seller Account, You Can Advertise Your Products On Amazon.com
Advertising on Amazon is an easy way for you to promote your listings. Ads appear right where customers will see them, such as the first page of search results or product detail pages.
You place bids on relevant keywords, and if your bid wins and your ad matches the search, your ad gets displayed to shoppers. These targeted ads can bring your products to a new audience and help you maximize your sales.
Amazon has two advertising solutions: Sponsored Products for promoting individual listings, and Headline Search Ads for registered brand owners to promote their brand and product portfolio
So Have Said All This, How Do Nigeria Resident Register A Seller Account With Amazon Marketplace And Start Selling On Amazon
The Answer is very simple, you as a Nigeria Resident should outsource for the following items
1, Get Bank Account From One Of The Amazon Certified Countries
2, Get A Credit Card From Any Of The Amazon Verified Countries, You Can Request For One From The Bank Of Any Of The Certified Amazon Countries and Get Credit Card From Payoneer ( Use A Unique Payoneer Credit Card For This Purpose )
3, You will need to use Payoneer when you reside in or outside a seller registration approved country or when you are in Nigeria, and that of a bank account in an approved country
4, You Too also required to obtain a US EIN number, that is an Identification Tax Number assigned to you, which you will use to fire tax at the end of the year, You Can Get Your EIN Here
AFTER GETTING THE ABOVE LISTED ITEM, HEAD TO AMAZON AND REGISTER YOUR SELLER ACCOUNT WITH THE INFORMATION AT EASE
WATCH THIS VIDEO GUIDE ON HOW TO GET THE 4 ITEMS AS A NIGERIA RESIDENT AND GET YOUR AMAZON REGISTRATION SELLER ACCOUNT APPROVE
After you have registered your account and have your account approve, You can then start listing your product on the amazon marketplace and smile home with great sales and profit leveraged from Amazon platform
Hope This is helpful, drop your comment on the comment section of this article, also find below some NairaLearn Live Changing Premium Courses