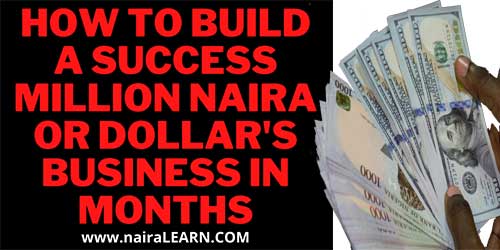 How To Build A Success Million Naira Or

Dollar's Business In Months
Dear Friend
If you want to learn the best tips for starting a business, building any business online or offline reading this report will do you more of Good
First, my name is Mbonu Watson am the CEO OF NL_SOFT, Owner of NairaLEARN.com and publisher of AfriNOTES.com
Am a Nigeria Base Developer/Internet marketer, have built software, training kit as well have helped a lot of business, group and individual companies in my home country and across Africa to leverage the power of the internet in growing their business
And I believe I too help you in whatever ideas you have, in that you small or big ideas, small business, medium enterprises of yours, yes I can help you reposition your business while you watch your business skyrocket to the top in months
First, I do love to be your friend, Kindly Save the below WhatsApp Numbers +2348068608490 and WhatsApp me, I have something cool to give you 100% Free
Yes, My First Free Give-Away for the year, that is what I have for you should you have not gotten it, and possibly meeting me for the first time, Save the WhatsApp Number +2348068608490 and WhatsApp me now. 
While we proceed with today's Topic (How To Build A Success Million Naira Or Dollar's Business In Months).
The reality of life is, 90% of people all over the world have great ideas, people have big and great dreams, so in most cases having ideas, great dreams are never the problem. the problem with most people is putting the ideas, great dream into action
So taking action has always been a lot of people's problems. while Mark Zuckerberg co-founder of FaceBook has told startup people like you and I that there are no formed ideas. So when you have a n idea strive to start with what you have, don't wait for it to be fully formed
You can't have everything you have to get started with that of your great idea, great dreams, but you can start with whatever you have, start, taking action to get started with the little you have.
So if I may ask, do you have any idea you have not yet put into action, or possible you have started but not getting the expected results you have earlier presumed?
If you answered yes to the above, please pay attention to this topic, How To Build A Success Million Naira Or Dollar's Business In Months.
First Take Note Of These Three Point
1: Great opportunities will come your way but think about all aspects of the situation before grabbing hold of them.
2: If you want to stand out you need to innovate and position your brand creatively.
3: Hard times will come, and the only way to make it through is by swallowing your pride.
The world is not an easy place that you may not need to work hard, but working smart is necessary. for example. In Nigeria Sub-Sahara Africa where I came from. The government of my country is so corrupt that things in this part of the world are so hard, making the majority of my countrymen work very hard with zero nothing only but poverty to show for. that few work smart and have many to show for, so understanding that working hard is not bad, but working smarter is necessary
How To Build A Success Million Naira Or Dollar's Business In Months. STEP One
Getting started:
Until you started, you will never get it, so when you want to grow million naira or dollar's business in months your first assignment is to get started. Starting with whatever you have
Before Elon Musk became the richest man on earth, Jeff Bezos now the second richest in the world was once then the richest man on earth and when you read how he started, you will be humble, he started with nothing, from his humble beginning he made a lot of mistakes with unformed ideas, finances and many more. What made him rose is the fact that he took a step.
So if you want to build a million naira or dollar's business you must get started not mending if you are getting it right or not, you must kill the fear of making mistakes, failing, etc, you should take actions, if mistakes and failure want to occur let them occur such are best but part of learning.
Just like movie lovers, if you love to see heroes rise to victory in their stories. Whether it's mythology or superhero movies, we're constantly hearing these tales. It's inspiring to see the hero think a little differently and utilize their ingenuity to triumph against a life-threatening challenge.
And if you know of any of the stories behind successful businesses you'll know that it's the same elements that make these individuals' experiences so interesting also. 
There's more to it than the need for cash, late nights hustling, building million or dollar business of days, tells you to work both day time and night, it tells your business should be on the internet running on 24.7 with an ongoing paid promotion and free listing
And working from all sorts of places. Underneath it all, there's a story that can motivate anyone to fulfill their entrepreneurial dreams.
It also tells you to build a network of people and best you should avoid the greediness of running such business all by your self, business work faster if you have a network of serious and dedicated minds.
Underneath it all, there's an idea that's so wild that it might work. And entrepreneurs that are so crazy might succeed.
Lesson 1: Keep your eye out for great opportunities, but analyze the situation thoroughly before you jump into anything.
Sometimes, in the world of business, entrepreneurship, it seems like all it takes is hard work to get things off the ground. While you have to put in the effort, working smarter is the greater, it's not everything. If you don't have a good idea, it'll never take off.
But how do you find something worth investing your time and money into? Does it require a lightbulb moment or do you have to go out and find something? The truth is that you have to start something, start moving forward to get ideas to start coming. This is because there are ideas unfold in that little idea's of your
And if you're wondering whether it's a good enough opportunity simply ask yourself if you believe it's worth giving up everything you're working on now to pursue.
Lesson 2: Position your brand creatively if you want to stand out.
As you start your business or company you might get some money from your parents and a few friends. Maybe you even invest your life savings. But that still won't be enough, unfortunately. 
You don't have enough cash to do this on your own, for one. And you probably also don't have enough mentors, experience, or intelligence either. But don't let that discourage you, all it takes is finding the right people and getting innovative.
You can also leverage NairaLEARN courses to grow your mentorship, learning, and marketing. access NairaLEARN courses here
It'll be tough to get into whatever crowded marketplace you'll be going for. But take a little bit of creative inspiration from the fact that when the business niche is saturated, that tells you that is lucrative
Building a network and connecting with people can also sell your business or company faster, as the saying goes powerful connections are another way to get the word out about what you're selling. Ultimately, though, as Mark Zuckerberg put it, "Nothing influences people more than a recommendation from a trusted friend."
To get that priceless word-of-mouth marketing going, simply make a fantastic product that people can't help but talk about.
Lesson 3: You've got to let go of your pride if you want to be resilient when a crisis strikes.
As the COVID-19 pandemic has taught us, nobody is immune to catastrophe, whether it's an act of God or a mistake. And no matter the reasons, you as the leader must take responsibility for dealing with it all. 
Remember that you're never helpless to resolve issues that come up. If you're worried about what to do about problems, then you may never have the opportunity to take the big risk
Promoting On Classified, AdWord, Social Media, WhatsApp Tools, Email Marketing, Bulk SMS
If you want to build a business or company first make sure that your business is listed online, if your business is not listed online yet, then stop whatever you are doing now, including reading this article (How To Build A Success Million Naira Or Dollar's Business In Months) and go to AfriNOTES Directory and list your business or company for free
The future of all millionaire or dollar business is online, you must take your business online for your good, do such now
Next: is to have the mind to promote your business using both FREE and PAID Promotions, you can start with Classified Deals, Google AdWords, Social Medias, WhatsApp Bulk Sender, Email Marketing, Solo Ads, Nigeria GSM Number Database, Email Database and many more
To learn more about these forms of marketing and promotion kindly get The Digital Marketing Academy Kit Here
Once you list your business online and start effective promotion of your business product and services the right sales will begin plummeting and the business or company will start to grow, more sales mean more profit. 
These are simple but How To Build A Success Million Naira Or Dollar's Business In Months. start with this idea and take me later
Yours in success
Mbonu Watson 
From All Of Us
We Thank God